Who doesn't dream of living in paradise? Settling down somewhere near white sands, blue waters and abundant sunshine? Luckily, for Northern natives, Danny and Monica Cosenzi, the opportunity presented itself and it was impossible to pass up. Moving down to the Northwest Florida beaches has so far been a great experience for Danny, Monica and their two young children, Livia and Dylan.
As co-owners and operators of Restaurant Paradis, the Cosenzi's have been welcomed into the beautiful Rosemary Beach community by the friendly locals and enthusiastic vacationers who visit. As a well- established restaurantuer, Danny has 30+ years of experience in the industry and there's no doubt he's ready to take on this new venture. With 15+ years of restaurant experience, Monica is ready to keep things running smoothly at the front of the house while making sure you are welcomed with smiling faces as you enter the restaurant. Since Restaurant Paradis has been a great success in the past, with an incredible Chef and highly skilled staff, we look forward to many more exciting years in our future!


---

COASTAL FINE DINING
Restaurant Paradis is a small fine dining restaurant, with a comfortable and inviting full service lounge. Nestled in the beautiful coastal town of Rosemary Beach, Florida, you'll find this hidden gem that loyal customers like to call home. Evoking a warm neighborhood feel, the dining area features an understated wine country elegance. Open for dinner, Paradis is committed to serving fresh seasonal ingredients, which celebrate local produce and an abundance of fresh Gulf seafood, along with prime steaks and fine wines. Paradis welcomes wedding receptions, rehearsal dinners, and all celebrations, both intimate and large. Throughout the year, Paradis also offers select wine dinners and tastings from some of California's most exclusive vintners.
With a focus on coastal cuisine, Paradis draws from the rich flavors of the coastal area as well as various other regions to create its innovative and tantalizing dishes. Paradis' chefs have a flair for using common ingredients, but with a unique twist. Dedicated to sourcing locally grown products so the menu changes with the seasons, Restaurant Paradis prides itself on providing customers with new dishes to look forward to year round.
Whether you're strolling by in your flip flops and shorts or dressed up for a night out on the town, our staff will welcome you with smiling faces. Maybe you've just dusted the sand off your feet and realized its dinner and you're too relaxed to go home and cook. Come on in to Restaurant Paradis where we can meet your leisurely or more sophisticated appetite!
A Gift Card from Restaurant Paradis is a memorable way to celebrate any occasion, or treat someone with a special thank you. For questions or to order by phone, please call 850.534.0400.
Reservations highly recommended.
---

ABOUT 101 CONCEPTS
101 Concepts is an Atlanta based restaurant group – formed by friends and partners, Steve Buero, Chris Segal, Phil Roness and Mark Stillman. The "boys" of 101 Concepts are connected one way or the other, mostly by their Brooklyn backgrounds. Steve and Phil were bus boys in the same Brooklyn restaurant, the Greenhouse Cafe. Mark is originally from Brooklyn, and Chris and Steve met while in college in New Rochelle, New York. The whole gang came together when they all worked at the Brooklyn Café and the rest they say is "history."
The guys paved the way in the restaurant industry over recent years. They have opened multiple restaurants in Atlanta, including 101 Steak ATL, Meehan's Public House and Restaurant Paradis in Rosemary Beach, Florida – all concepts receiving raving reviews by local critics and fans alike. The group's dynamic combination of friendship and shared work ethic is responsible for their successful partnership and the great eateries throughout the Southeast. 101 Concepts is committed to growth by emphasizing sensitivity to our customers and the diversity of their needs, responsibility to our community and by providing a work environment that emphasizes employee advancement through responsibility.test
---

HOURS
Restaurant Paradis is open daily at 5:00 pm for dinner, currently by reservations only.

Seasonal Hours

Monday - Saturday 5pm - 9:30pm

Sunday 5pm - 9pm
The Bar/Lounge stays open until midnight.
OPEN
Valentine's Day, Mother's Day, Father's Day, Thanksgiving Day, Christmas Eve, New Year's Eve, New Year's Day
CLOSED

Christmas Day, Super Bowl Sunday & certain private events TBD...
ATTIRE
Smart casual
Beach casual
LOCATION
82 South Barrett Square Rosemary Beach, FL 32461
DIRECTIONS
Rosemary Beach is situated on the east end of 30A, where it meets with US98 (E. Emerald Coast Parkway). At the town center, Restaurant Paradis is conveniently located on the southeast corner of 30A and Barrett Square.
---

PARADIS RATED FOUR STARS
Northwest Florida Daily News
In her August 6, 2009, article titled, Restaurant Paradis: Charming Place, Exceptional Food, Colleen Coffield Sachs, NWF Daily News food critic, gave Restaurant Paradis a 4-STAR rating in all 4 categories (Atmosphere, Value, Food & Overall rating).
"With exceptional food, service and ambience, Paradis is sure to be a popular place."
Read the complete article at nwfdailynews.com
---
TO GO orders may be placed only between 5-6pm daily
Very limited seating. Please call for reservations and additional information 850-534-0400


UPCOMING EVENTS:

https://www.eventbrite.com/e/prohibition-repeal-wine-dinner-tickets-728928162757?aff=oddtdtcreator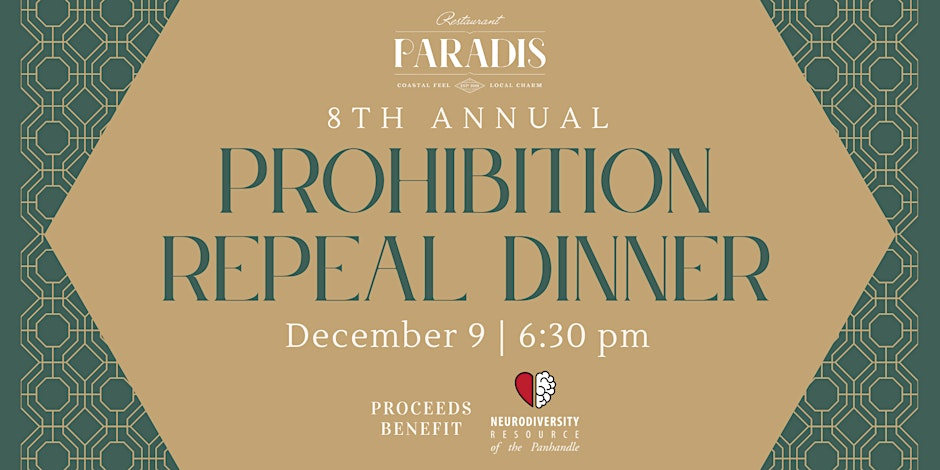 CAN'T ATTEND THE PARTY BUT WOULD LIKE TO DONATE? CLICK THE LINK BELOW.
https://neurodiversefl.org/